Destinations
Places To Go
Sodha Travel has an extensive network of specialists in Southern and Western Asia. We provide services in the following destinations:
India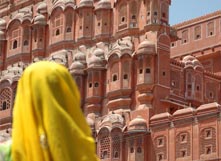 India is an exotic land of contrasts, color, and mobility. Though transforming at such a rapid pace, the country fluently maintains its cultural, historical and spiritual treasures. Besides being one of the most affordable destinations in the world, India truly offers something for everyone, including architecture, adventure, cuisine, beaches, wildlife, backwaters, shopping, festivals, music, dancing, and the majestic Himalayas.
Learn more about traveling to India
View our sample India tours
Nepal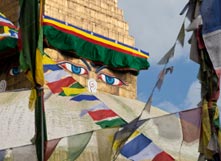 Nepal is an enchanting kingdom, nestled in the Himalayas between China and India. For a small territory, the country boasts an uncommonly diverse terrain, including eight of the world's top 10 highest mountains. Nepali folklore is often illustrated in dance and music and the people are open to sharing their traditions. Although tourism is steadily increasing, Nepal's remote location has kept the culture widely unaffected from outside influences.
Learn more about traveling to Nepal
View our sample Nepal tours
Sri Lanka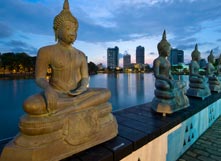 With rows of coconut palms, dense forests and clear waters of the Indian Ocean, Sri Lanka is an incredible offshore garden. Resting at the toe of India, the tear-drop shaped country offers distinct attractions including tea plantations, pristine beaches, and some of the oldest Buddhist sites in the world. Rocked by a history that includes natural disasters and civil wars, Sri Lanka has made an empowering comeback and continues to impress travelers from around the world.
Learn more about traveling to Sri Lanka
View our sample Sri Lanka tours
Bhutan
Even the most privileged travelers consider Bhutan a special destination. Its secluded location, limited accessibility, and preservation efforts have shielded many from visiting this jewel in the Himalayas. Bhutan only opened its doors to tourism in 1974, with the number for tourists kept to an environmentally manageable level through government regulated tourist tariffs. Bhutanese are renowned for their happiness and are a proud people who wear their national costume with pride.
Learn more about traveling to Bhutan
View our sample Bhutan tours
Thailand
Often labeled the Land of Smiles, Thailand is a diverse and wondrous country located in the heart of Southeast Asia. Thai culture has been shaped by many influences, including Indian, Lao, Burmese, Cambodian, and Chinese. Visit the ancient temples, explore the countryside by cycle, trek the tropical jungles, enjoy island hopping, discover hidden caves and lagoons, and sample new cuisine in the floating markets. Sodha Travel also offers several sustainable tourism and voluntourism packages in Thailand, including home stays, volunteer projects and conservation initiatives.
Learn more about traveling to Thailand
View our sample Thailand tours
Tibet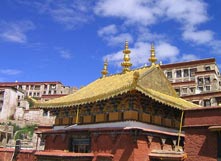 Tibet is an "elevated" destination in landscape and beliefs. Located in western China, the plateau region is the highest on earth with an average elevation above 16,000 feet. The dominant religion, Tibetan Buddhism, is strong on elevation of spirit and has played a prominent role in influencing art, festivals, and music. To many travelers, Tibet is synonymous with political unrest, exile, and administrative tensions. However, it is also a spectacular region with over 800 settlements, world heritage sites, palaces, and sheer geographic beauty.
Maldives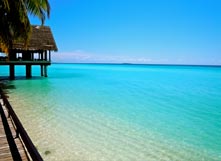 The Maldives is a paradise of turquoise reefs, deep blue seas, and sandy beaches. There are 1,190 islands formed around 26 natural atolls, with 90 islands developed exclusively as tourist resorts. The warm seas have a high visibility year-round, making it ideal for diving, boating, surfing, and watersports. As a strategic trading route in the Indian Ocean, the Maldivian culture was heavily influenced by South Asia, Africa, and Arabia.
Dubai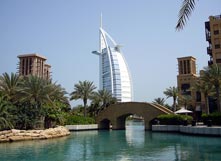 Dubai is a bustling, modern city and one of the seven emirates that encompass the United Arab Emirates (UAE). Only a short flight to South Asia, it is also a popular stopover destination for travelers visiting India, Sri Lanka and Maldives. Dubai offers visitors a unique blend of modernity and traditionalism, as well as some of the most luxurious hotels and attractions in the world. Enjoy a sunset desert safari by jeep, explore the Palm Jumeriah archipelago, cruise down Dubai Creek, or catch the views from the observation deck of Burj Khalifa, the tallest building in the world.
Singapore
For a relatively small and young country, Singapore has emerged as one of the world's leading commercial and economic hubs. The four official languages – English, Tamil, Mandarin and Malay – represent the foreign influences that have shaped the Singaporean identity. Often considered a gateway between the East and West, Singapore is also a popular stopover destination for travelers on long-haul flights. Notable attractions include Sentosa Island, Marine Life Park, Gardens by the Bay, China Town, Little India, and the Singapore Flyer.
Vietnam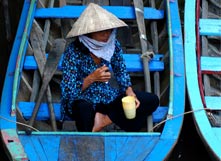 Vietnam is a country that honors the past and celebrates the future. Sharing borders with Cambodia, Laos, and China, the topography varies from coastal plains to mountain ranges. The Vietnamese culture has evolved on the basis of the wet rice civilization, and the local lifestyle is closely related to its village and native lands. The diversity of the 54 ethnic groups is apparent in the many traditional and cultural treasures. More popular destinations include Ho Chi Minh City, Hanoi, Da Nang, and the limestone pillars of Ha Long Bay.